---
---
Program and control your car's ECU with your Phone
Using just your phone and our ECU Connect Interface, EcuTek connects you to a whole new driving experience. From getting your car tuned to enjoying our unique RaceROM features, it has never been so easy with ECU Connect and PhoneFlash.
Get started in just 3 easy steps:
Download the FREE ECU Connect App from the App Store or Play store
Purchase an ECU Connect Interface from one of our Master Tuners
Plug it into your car OBD socket and pair your phone with the Interface
Now let's get your car tuned
With ECU Connect, you can program your car's ECU with a new tune with just your phone. There are no wires to plug in, no laptops required, and no complicated instructions to follow. Programming your car with a tune file is simple and straightforward.
Open the ECU Connect App, create an account and select from over 200 EcuTek Master Tuners worldwide
Send your vehicle information straight from the ECU to your tuner at the touch of a button
Discuss with your tuner what you want from the tune
Receive a notification on your phone when your tune file has been sent to your phone
Select Program ECU and follow the instructions. No laptop. No wires. No hassle.
Use your phone as a remote control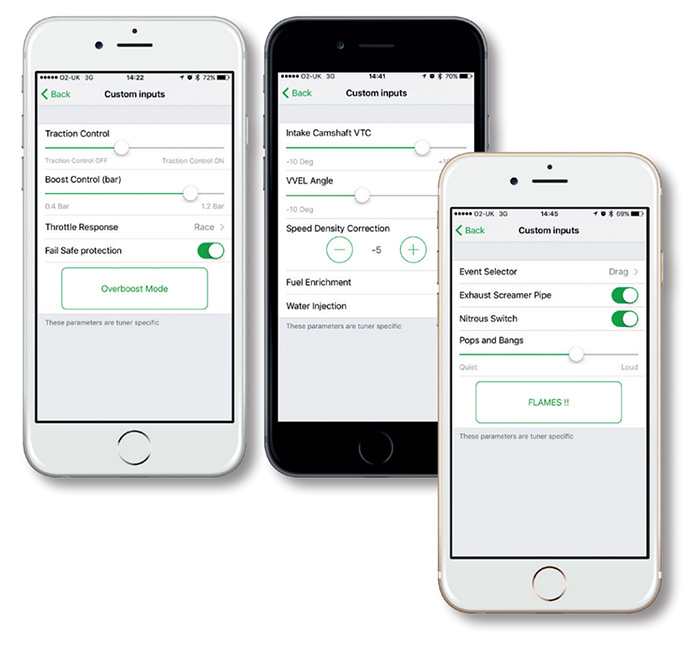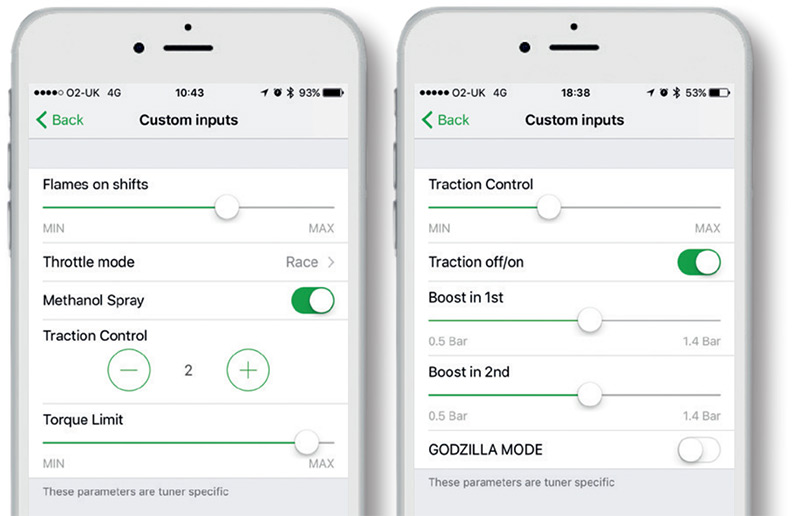 Change your launch RPM
Adjust your boost or torque
Make your Traction Control more or less aggressive
Activate your Nitrous
Set up a Push To Pass button
Set up a pit lane speed limiter
Adjust your factory burbles
Switch between up to 4 different driving modes
Activate and deactivate Valet Mode
Check here to see what custom features you can have on your car
Note: The above custom features are only available with an EcuTek Tune installed on the vehicle. Your EcuTek tuner will need to set them up within the tune.
And there's more…
Monitor 100s of engine and gearbox parameters
Create unlimited personalised dashboards to monitor what you need
Read and clear DTCs (Diagnostic Trouble Codes)
Check your before and after a tune with the Performance Analyser
Set up and send logs to your tuner direct from the app
Note: The above features do not require an EcuTek Tune and are available on nearly all vehicles manufactured after 2008
Supported models
To get the custom features mentioned above, such as boost control and variable traction control, you need to have your car tuned with EcuTek.
Check here to see what custom features you can have on your car.
ECU Connect supports the generic OBD2 CAN communication protocol available on nearly all vehicles manufactured from 2008 onwards. ECU Connect can be used for OBD PID logging and reading and clearing DTCs for all compliant vehicles worldwide.
There are many different OBD2 standards and protocols. We cannot guarantee support for the standard features on all vehicles, but we have tested on many different vehicles, including petrol and diesel models.
---