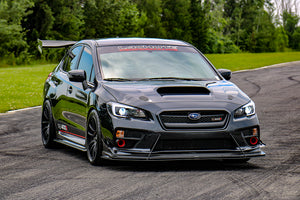 LP400R - 2016
Voici la première LP400R à être assemblée par l'équipe de Lachute Performance.
Ayant comme base une Subaru STI 2016, que l'équipe à complètement métamorphosée pour en faire une bête de circuit pour le lapping.
Voici en détails les améliorations apportées à la voiture:
Moteur / Pièces de performance:
Lachute Performance AK-3 Engine bloc with billet crankshaft, forged pistons and rods.
Lachute Performance AK heads stage 2
ARP bolts
Balanced & Blue-Print Assembly
OEM Size Intake And Exhaust Ports
Manley valve springs
Multi Angle Valve Job
Cosworth High Volume Intake Manifold
TGV delete
Air Pump Delete Plates
Lachute Performance Cold Air Intake - LP-Flow
Lachute Performance Headers & Up Pipe with external wastegate
Lachute Performance Cattless Downpipe
Lachute Performance LP400 Catback with cut-out valve
LP400R Turbocharger
ProcessWest Top Mount intercooler
Perrin Silicon turbo Inlet pipe
Cosworth Billet Top-Feed Fuel Rail Kit ( Return-less Set-Up )
DeatschWerks DW300 (340LPH In-Tank Fuel Pump)
Deatchwerks Fuel Injectors 850cc
KoyoRad Aluminum Racing

 

Radiator

 

KoyoRad Hyper Rad Cap
Lachute Performance Upper

 

Radiator

 

Aluminum Tube
Lachute Performance engine oil cooler

Tuning:
Programmation de l'ECU sur dyno avec licence ECUTEK
Aim Dash MXL2

Transmission:
Exedy twin plate Clutch Kit

Cusco rear LSD differential unit

DriveShaft

 

Shop Carbon Fiber Unit (12.2Lbs)  
Perrin High Capacity Differential Cover

Suspension:
JRZ RS PRO Double Adjustable Club Sport Damper / Coilovers (Top-Plates & Gas Canisters)
GTSPEC Front Strut Brace
GTSPEC Rear Control Arm With Camber Adjustment
Whiteline Rear Adjustable Toe Arms  
CUSCO Rear Trailing Arms
PowerFlex Black Series Control Arm Brace Support
PowerFlex Black Series Control Arm - Lower Inner Front Bushing
PowerFlex Black Series Camber Correction Control Arm Upper Inner Bushing Kit
PowerFlex Black Series Cross Member Mount Bushing Kit
PowerFlex Black Series Diff - Mount In Cradle Insert Bushing Kit
PowerFlex Black Series Diff – Mount Front Bushing kit
PowerFlex Black Series Diff - Mount In Cradle Bushing Kit
Whiteline Control Arm Support
Whiteline 22mm Adjustable Front Sway Bar
Whiteline 22mm Adjustable Rear Sway Bar
AVO 55mm Front Adjustable End-Links
AVO Rear Adjustable End-Links

Freins:
Lachute Performance LP400R brake duct
Brembo Race caliper rotor and pads (front)
DBA 4000 T3 1-Piece Slotted Rotors (rear)
Goodridge Stainless Steel Break Lines

Roues et pneus:
RTX Stag wheels - Powdercoated red
265-35-ZR18 Michelin sport Cup2 tires

Éclairage:
ProLightz HeadLamp RetroFit Project
2012 / 2014 Crystal Head Lamp Units
Morimoto Mini D2S 3.0 Bi-Xenon Projectors
JDM DEPO 2008/2014 Subaru Impreza 4DR Sedan Red / Clear LED Rear Tail Lights
Premium Automotive Styling Tail Light Overlays ( Top Half OEM Red / Bottom Half 25% Smoke Combo )
STi JDM Rear Fog Light Assembly

Esthétique:
APR Carbon Fiber GT300 rear spoiler
APR Carbon Fiber Front air splitter
APR Carbon Fiber front air dam
APR Carbon Fiber front bumper canards
Aerocatch Hood Pins
Black STI side emblems
LP400 side skirts & rear lips
LP400R Livery  (badges and doors stickers)

Intérieur:
LP400R serial number
LP400R dash trim
LP400R logos embroidered on the front seats
Cette voiture a même fait l'objet d'un essaie en piste par le pilote Carl Nadeau dans le cadre de l'émission Propulsion.
 Voici quelques photos de la voitures une fois complétée: 


---