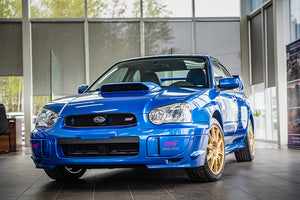 2005 Subaru WRX STI - Total Restoration Project - English Version
The Lachute Performance team has started a project that will catch the attention of fans of this icon of rallies ... I named; the legendary Subaru WRX STI GD ... Of course in its beautiful WRB (world rally blue) dress with golden rims.
We embarked on a complete restoration project for a 2005 WRX STI.
The goal is to build a 2005 Subaru WRX STI that would be even more beautiful than it could be when it left the factory in 2004.
We found a chassis in excellent condition ... to assemble the car ... parts by parts ... components by components ... and from (as far as possible) new OEM parts.
The majority of parts literally came out of their boxes.
The pictures speak for themselves ... this car is simply awesome ...
Here are some pictures of the assembly:
For mechanics, still in the idea of building the ideal 2005 WRX STI, we chose a motor from our workshops, an AK-2 forged engine. Forged components such as connecting rods and pistons as well as specific assembly specifications offer increased reliability to this 2.5L engine.
For the exhaust, we opted for a stainless steel exhaust, manufactured in our workshops, to offer great performance and stay beautiful for a long time.
And this is the final result:
---